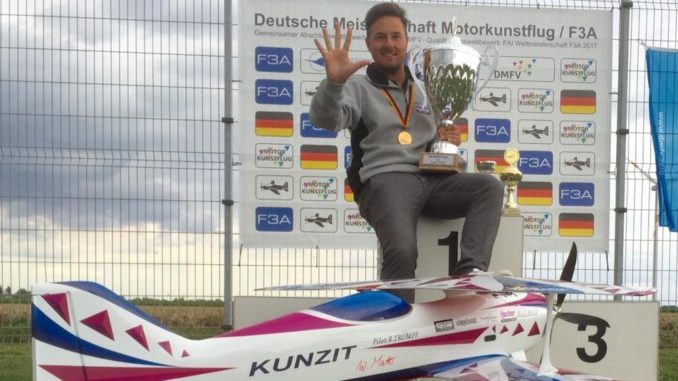 I am Robin Trumpp, was born 1993 and made my Abitur in June 2013 on the Technischen Gymnasium in Schwäbisch Hall. I am working as an technical product designer. My Hobby is aeromodelling – with passion!
Since I´m 3 years old I am doing this amazing hobby and fly everything what this hobby has to offer. From indoorplanes, gliders, IMAC, jets until my f3a pattern airplanes.
Since 2012 I am reigning German Champion DAeC in class F3A. The youngest in history since 1951.The last 2 European Championships in Liechtenstein 2014 and Germamy 2016 I finished in 6th and 5th. At the World Championships in South Africa 2013 and Switzerland 2015 I finished in 8th and 10th. In the years 2010 and 2011 I won the German Junior Championship class F3A. At the World Championship in the USA 2011 I became Junior Vice World Champion class F3A. The German Aeroclub voted me to "Aviator of the year 2011".
I was infected for aeromodelling and competitions by my father Ewald Trumpp. He was also German Champion in 2003 and European Champion with Team Germany in 2002 class F3A. He retired from competition flying in 2003 but is still an active pilot. He likes to fly jets and old pattern airplanes nowadays.