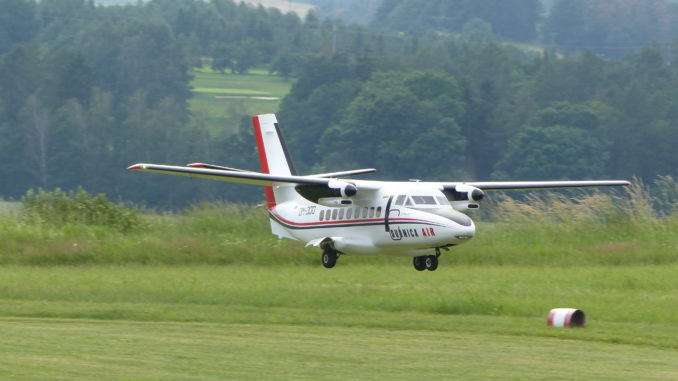 The second year of JETI model GALA has taken place with the full support of JETI model at Nesvačily airport. Despite bad weather conditions many audiences came to enjoy a flight show or interesting presentation of JETI model's products. Also, many customers used offered a sale for buying a new transmitter, receiver, speed controller or even some telemetry sensors.
Flight show has been started by commented flight made by our team pilot Jan Spatny who has been flying his Slick 580 with wingspan 2670mm. In the next slot, we were able to see the youngest pilot of the day. It was Lukas Doubrava and his L-410. During the show, the audiences were also able to see other team pilots. For example Marek Plichta, Martin Pasacek or Jiri Jarolimek.
The program also included 4 lectures about products of JETI model. First of them was about the new transmitter DS-12. On the second one, the public was acquainted how to correctly setup REX Assist receivers for each different types of airplanes. The third lecture, lead by co-founder Juraj Tinka,  was devoted to benefits of using PowerIon batteries. The last lecture was about the advantages of using Mezon and Mezon pro speed controllers.
The whole day was concluded with a slot for free-flying until the dusk and discussion between pilots and employees of JETI model during having dinner together.