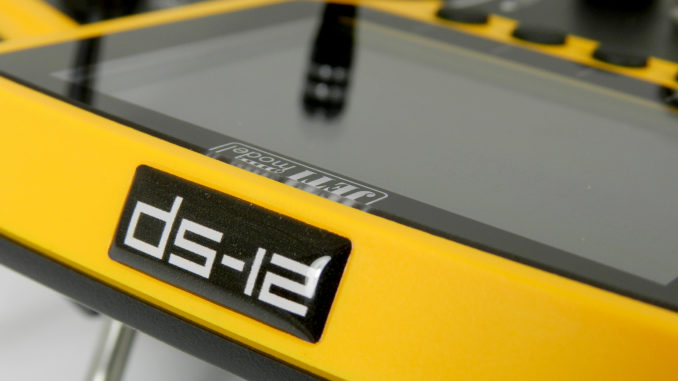 Our friend from Austria got his DS-12 just by the end of June but already won a glider competition with it. He was kind enough to write a short review:
The latest remote control from the house JETI model is a handheld transmitter the new DS-12. The first transmitter that does not consist of an aluminum housing like all other sister models, but this time of plastic. We also do not find aluminum in the interior, but as with all other JETI transmitters, the clarity of the interior is simply beautiful. The stick aggregates are similar to the DC/DS-14 held in plastic. This concept plastic instead of aluminum affects only the weight, but not on resetting accuracy, handling or the steering feeling, this is just like a JETI transmitter usual perfect and accurate! The signal pickup from the two sticks is carried out as usual contactless with Hall sensors.
The case is completely redesigned and feels very good in the hand. The arrangement of the switches and encoders is easy to achieve, and the selection of the standard switch assignment is well considered. There are 4 long switches (1x 3 positions, 2x 2 positions and 1x push button) and 2 short switches (1x 3 positions, 1x 2 positions), of course these can be interchanged with each other or with other switches for the DS transmitters. When replacing the switch, I personally have a little harder than the other transmitter models, it's just a little less space than, for example, in a DS-14/16/24. (Maybe I've done something wrong) 😉
Like the DS/DC-14 series, the DS-12 is kept low in the basic version and is restricted by the software. However, the desired individual functions or entire update packages can be purchased via the JETI model homepage. Thus, the transmitter can be expanded to up to 16 channels or the function of the 900 MHz back-up module can be activated. The function of the 900 MHz module is currently not active in the full software version! The reason is relatively simple. There is a new 900 MHz system ("new generation") but the receiver is not yet finished production and therefore we will unlock the back-up module only with the delivery of the receiver in the next update.
All in all, the DS-12 is a successful throw in the direction of cheaper entry-level transmitters with the possibility of extending them to a top transmitter with 16 proportional channels. Thus, the DS-12 makes even the DS-24 a little competition.
A short report by Daniel Nagl.