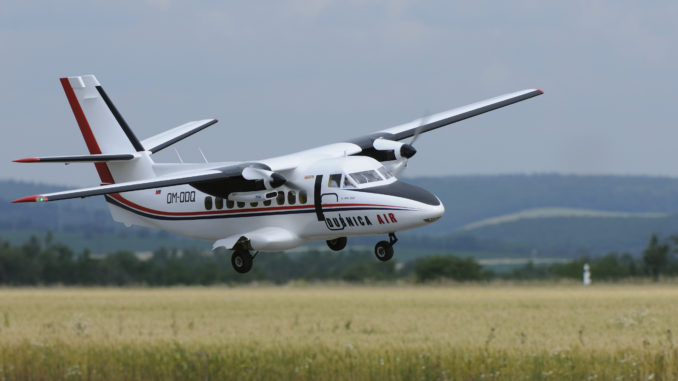 Model airport Czech Heaven celebrates the 10th anniversary! Since its opening, it has turned almost unrecognizable over the years. The last update is a 500 meters long runway for full scale planes with a couple of hangars.  The next anniversary celebrates a JETI model company which is the main producer of electronics for modelers. This year it is 25 years since the company has been founded. Quarter of the century!
For this reason, Czech Heaven, JETI model, and FIALA Props/Motors decided to celebrate together by opening the runway on June 16th, 2018. The audience could see examples of the best of both worlds, models and full scale aircraft: from the ultra-light "Kunkadlo" to the group flight of gyroplanes, the booming Boeing Stearman, to the top pilot of the RedBull Air Race series Martin Šonka.
From models world, we were able to see an amazing show thanks to the factory pilots. For example Daniel Nagl from Austria presented a acrobatic flight with music background with his 6 meters Fox aerobatic glider. Jan Hofman from the Czech Republic attracted the audience's attention with his turbine powered BAE Hawk, group GREAT WAR FLYING CIRCUS flown planes from the WWI accompanied by pyrotechnic effects. Kamil Šimon, Sven Hartmann, and Sepp Schmirl presented scale jet helicopters. After the sunset flying continued accompanied by a great firework show.
Champions over Czech Heaven were visited by 2500 visitors who were very satisfied. We were able to see an airshow, newly opened exhibition called Knight of the Sky or autography of Martin Šonka and Mr. Genmjr. Emil Boček, the last living Czech pilot from WWII.
Now it is time to open your diaries and mark the dates where you can meet JETI Team Pilots. First of all, it will be Čmelák Model show on August 11th, 2018  at Holešov (Czech Republic). One week later you will be able to meet and great JETI Team on August 18, 2018, at Czech Heaven where JETI Model Meeting will be held.
We are looking forward to seeing you!
Photo: Martin Stoeckl