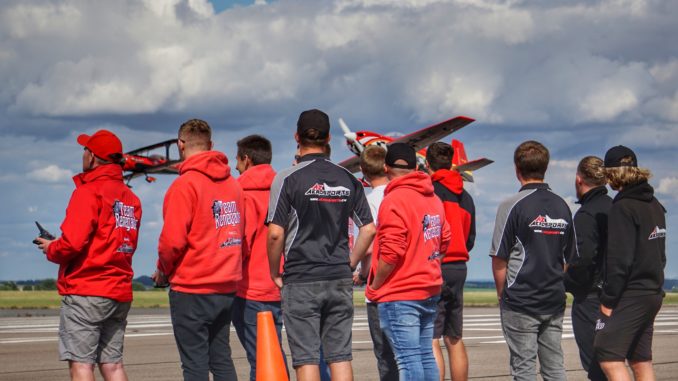 For the second time, this year members of the JETI Model company went to the Great Britain where they have participated in the championship in more than 25 categories. The championship was traditionally placed at the Royal Air Force airbase Barkston Heath. First of all, it is a great show but also an opportunity to visit dealers with model equipment etc. And it was English distributor who we have supported by helping him with a product placement and customer support at the marketplace and in the air with a flight show.
Visitors were especially interested in a backup radio band 900MHz which is provided by DC 24 and DS 24 transmitters. Visitors were also interested in Rex Assist functions like smart FailSafe – plane stabilization in case of pilot's failure. The REX ASSIST series of receivers is assembled with many sensors which allows much more than normal gyro stabilization. It is a really advanced flying assistant which is able to work in any kind of fly mode. For instance, we can use the nose gear. After the gear is retracted we don't want to stabilize it but we would like to stabilize rudder. It is not any problem for Rex Assist but for common gyro it could be. With ASSIST a rudder will be stabilized and it will eliminate problems with wind.
And what were we interested in? Traditionally it was the number of airplanes in the air. You are able to see scale JET on a show line, pylon special, sophisticated scale airplane or F3A specials all around the airbase. A wonderful experience was a group flight of 6 2.6 meters width acrobatics airplanes. Five of them were controlled by show pilots of Renegade Team and the last one was controlled by Jan Spatny who was added to the group. And this is how it works. Sometimes you fly alone and sometimes in the group. We mustn't forget free-flight during the evening which is an incredible moment when modellers start the engines of their airplanes and take off from the crowd. We have to say that many airplanes return back to the ground in a couple of seconds.
Also don't forget to visit air museum in Duxford in case you drive on the M11 highway nearby Cambridge where you can see Sea Fury, Spitfire or four engine bomber B-17 Flying Fortress and much more.