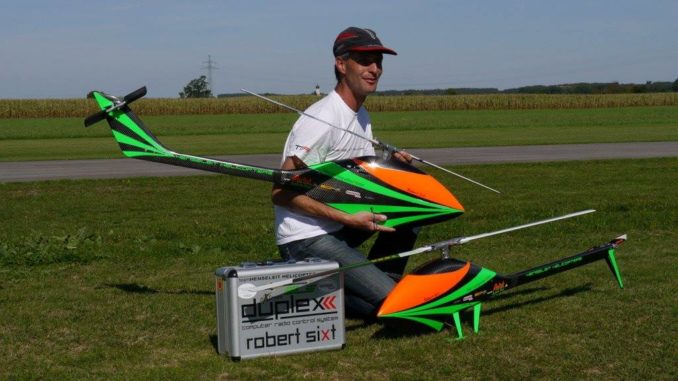 Hi,
my name is Robert Sixt an I´m trained joiner, working for over 20 years in a company that produces Plastic Windows. I started with model flying at the age of 12, and with helicopter flying I started at age 18. I fly with helicopters, airplanes, jets and everything that flies and is fast.
I started model flying back in 1987, at the age of 12, as did my father with planes. Over time, the models got bigger and faster. As a new challenge in 1993 I discovered my passion for model helicopters, which fascinated me from the first moment and I have not let go until today.
Over time, I developed my own personal flying style, the model flyer and spectator always thrilled. My specialty is show flights with heli to the music and unique night flight performances for young and old.
Entirely detached from gravity and aerodynamics, my model aircraft seem to be spinning around in space. It sets accents with witty special effects that give the viewer unforgettable moments.
In addition to the show flight, I took part in many competitions in the course of the part and was able to compete very successfully in recent years, very successful Heli-Speed ​​competitions. The absolute highlight of the previous successes is the achievement of a world record in Heli-Speedflug 2016. A guarantee for impressively great air shows day and night.